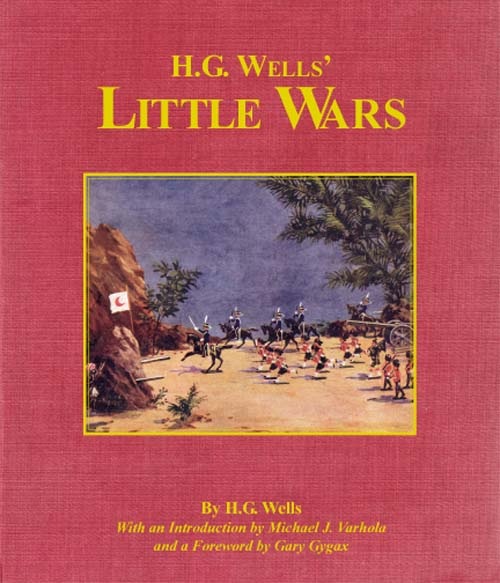 H.G. Wells' Little Wars
Originally written in 1913 by one of the greatest science fiction authors, this is a reprint of the book that gained H.G. Wells the title "Father of Modern Wargaming." Little Wars will appeal to science fiction fans, history buffs, students of politics and international affairs, wargamers, RPGers, and anyone else interested in the works of this great writer.
Skirmisher's edition of Little Wars is divided into a Foreword, an Introduction, six Chapters, and an Appendix. Features of this edition include:
Clear, authoritative, and entertaining text that reveals both the great mind and the sense of humor possessed by one of the world's greatest science fiction authors.
A complete miniatures wargame system that can be played as-is or used as the basis for other miniatures rules.
Foreword by Gary Gygax, whose development of Chainmail and Dungeons & Dragons were influenced by H.G. Wells in general and by Little Wars in particular.
Introduction by publisher Michael J. Varhola that discusses the relevance of this book both when it was originally published and now.
Chapters titled "Of the Legendary Past," "The Beginnings of Modern Little Warfare," "The Rules," "The Battle of Hook's Farm," "Extensions and Amplifications of Little Wars," and "Ending With a Sort of Challenge."
Appendix on Kriegspiel that expands upon Little Wars and shows how it can be adapted into a military training tool.
20 black-and-white photographs, 19 of them from an original 1913 edition of Little Wars.
More than 200 line drawings from the 1913 edition of the book, shown here in red just as they were in the original.
Original illustrations for the Foreword and Introduction by artist George Sierestski.
This download includes both low-resolution screen-friendly and high-resolution printer-friendly versions of both the book and its cover.